Description
Cheeseknife, The Ore Cheeser®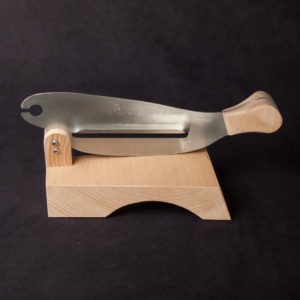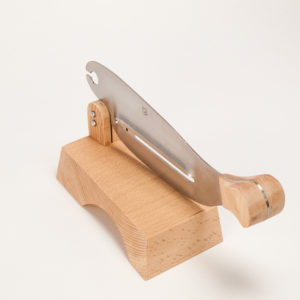 Safely remove cheese rinds and experience more flavor.
This cheese knife is great for removing cheese rinds. Most cheese knives are roundly unsuitable for cutting cheese rinds with it. Using a sharp knife to remove the hard cheese rind risks hitting the fingertips to the point of bleeding. We have found a solution to that with this cheese knife. The blacksmith's secret is in the guide of the cheese knife. It ensures that one has one hand free to properly hold the cheese and place it against the knife. With slight pressure, you push the cheese knife through the cheese. This causes the slice of cheese to curl off the knife.
If you turn the knife over and place it in the other knife guide then by pushing lightly with the non-sharp bottom of the cheese knife you can also make cubes or strips.
We find that we can better taste the flavor of the cheese when the slices and cubes are not too thick.
Have a nice delicious appetite!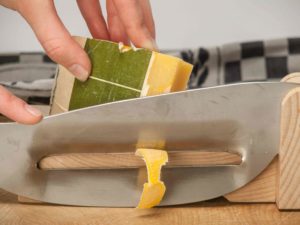 Remove cheese rinds,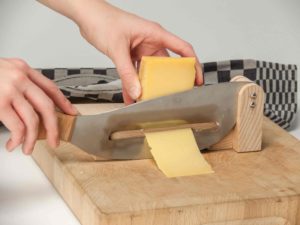 Cutting slices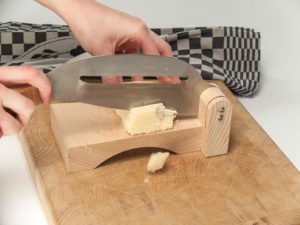 Cutting cubes.
Ore Design offers solutions for handling hard nuts and cheese, kitchen utensils for opening or cutting. The kitchen and cooking collection currently includes an innovative nutcracker, opener and cheese knife. We stand for tools that last a lifetime and provide convenience in the kitchen. Kitchen Happiness Handmade in Holland. We love to meet you at Dutch Design fairs and pop-ups here in the Netherlands. Our kitchen tools are complemented by candlesticks. In 3 sizes and different designs. Interior decoration for the dinner table. We all want to have a nice dinner together and we thought candlelight is part of that! Follow us on social media for the latest news.
Packaging The Ore Cheeser. We pack it beautifully for you.